Alex (Alexandra Groszko) loves being a Registered Nurse.  The clients at 2×2 Health often share with us how talented she is, not only with her care but also with h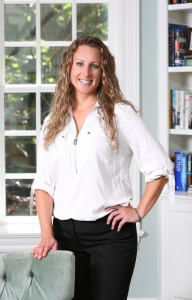 er ability to genuinely relate to others. Alex's family and friends tell her that nursing is the perfect job for her and we definitely can see why.   Alex lights up when she's talking about the medical and science components of her profession, yet is equally motivated to learn about and apply what is important to each client. Whether it is a medical issue/concern or ensuring someone has their favorite pair of slippers, Alex is passionate in all the aspects of caring for others.
I decided to sit down with Alex to learn more about her journey to nursing and 2×2 Health.
Why did you become a nurse?
Most people choose the healthcare field because they want to help people. That is true for me as well, I'll take it a step further—I love spending time with people. When you think about the world of health care, who spends time with patients? …. the nurses do. I really love to take the time to learn about each person, to establish rapport and build trust, so that each person can be listened to, understood, and successfully overcome individual challenges.
What do you notice when you start working with a client?
First and foremost, almost everyone is at least a little apprehensive. People do not fully know what to expect. Many of our clients are dealing with complex medical issues and may not understand or have all of the information yet. Some of them are nervous to ask questions or don't even know the questions to ask. In my role, I can take the time to truly listen and discuss what's going on and ensure each client understands medical terms, options, and potential next steps. This significantly increases their comfort level and confidence. I provide support and reassurance, in addition to my medical background, for a comprehensive perspective, both as a nurse and as a caring individual. I make a difference in helping people understand that "we will get through this" and it significantly increases their comfort level and confidence.   That means a lot to me!
Why do you like working with 2×2 Health?
The biggest theme that jumps to my mind is "time." When I work with individuals, I am not rushed. I am taking the time to truly be there and learn more about them, their needs, and preferences. I pay attention and provide very individualized care. I am proactive and am prepared if anything unforeseen arises. At 2×2 Health, we help our clients develop goals that meet not only their medical needs but also their lifestyle interests and passions. When partnering with 2×2 Health, we don't pepper you with questions, and we have continued conversations with you to ensure you are involved and aware every step of the way. We spend time and establish a partnership with you.   You will be heard, we will address any ongoing issues, all so that you can get back to the priorities in your life.
So many of our clients have complimented your abilities to care for them, and about them.
Thank you, I really appreciate it! I take a great deal of pride in my clinical skills, and I feel honored to provide care and support to our clients and be brought into their lives. I love celebrating our clients' many achievements, I have no doubt that this is absolutely the perfect career for me, and I couldn't ask for a better team to work with!
Thanks for meeting with me Alex!
Healthcare with you. Healthcare for you.
Wendy Benson, MBA, OTR/L