When ringing in the New Year many of us take time to reflect on the past while eager to look toward the future. In 2017, the 2×2 Health family accomplished many things while growing personally and as a business. As the New Year approached we felt it was time to grow by one more member!
Introducing Murphy! He is full of energy and loves meal and snack time!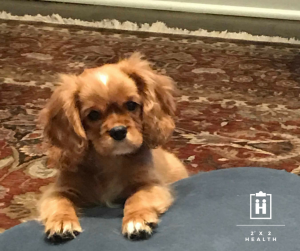 As much as Murphy is loved, the following month with Murphy has created a new set of challenges. This adjustment period has helped me to reevaluate my schedule and put things into perspective. When bringing in a new pet, or any big change within ones environment, it is normal to feel off-balance at first. During my time of adjustment and adapting to life with Murphy I used the following reminders to stay grounded!
Acknowledge your feelings: Often we can try to hide from how uncomfortable we feel, but experts agree that when we "name" our feelings, it is easier to proactively address them. In our home, we discussed that although my daughters were extremely happy and excited to have a new puppy, how it is completely natural to be anxious about holding a new squirmy little puppy because we don't want to hurt him, and we also don't want him to chew on us! After talking about it understandable it is to feel this way, we practiced over and over (with treats for Murphy of course) and it got a little easier and was a fun exercise.
Prepare as much as possible: In addition to reading books together on raising a puppy, we also sought an expert, a trusted veterinarian and her recommendation for a trainer. This experience reinforced to me how there are resources all around us, people we can count on to help us through various transitions and life experiences. It can be comforting to know that there are people who specialize in potty-training puppies!
Attitude and what we do is "ours" to control: So much of what we experience in our lives are directly related to our attitude and how we respond to situations. According to Dr. Wayne Dyer, "If you change the way you look at things, the things you look at change." When Murphy didn't quite make it outside and had an accident on the floor, one of my daughters exclaimed, "At least it isn't on the carpet!" I had to applaud her attitude, she certainly changed the way I viewed the clean-up duty.
Enjoy the shift in your "new normal": Although I am getting up earlier due to the new puppy training and feeding routine, I am really loving the extra snuggles I am getting from Murphy in the morning. Admittedly, the schedule is a little more hectic, but it is also filled with more laughter and fun for all of us.
Any change, positive or negative, can add stress into our lives. If Murphy has taught me anything, it is to give myself a break and realize that it is completely normal to feel this way.
Have you occurred any big changes in 2018? How have you handled them? We would love to hear your pieces of advice for coming to terms with shifts in routines!
Thank you for reading and here's to Murphy learning to chew only his toys, not my daughters' fingers, and to a very happy and healthy 2018!
____________________________________
Wendy Benson, MBA, OTR/L