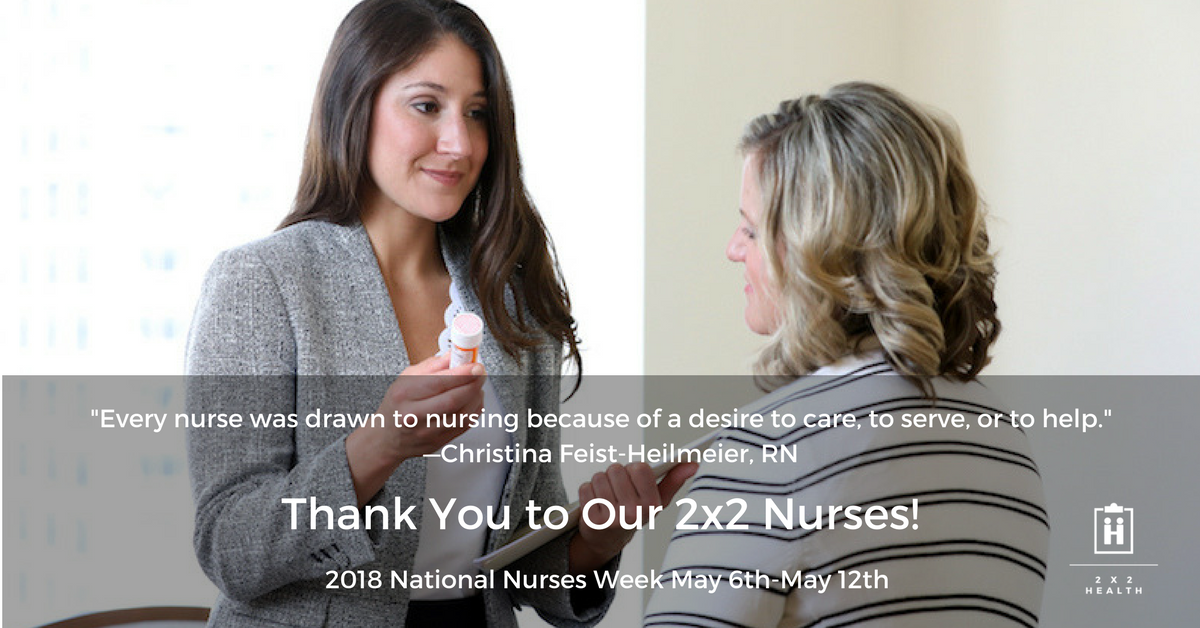 At 2×2 Health: Private Health Concierge, we LOVE our nurses! Earlier this year, Pope Francis called nurses "experts in humanity" and that they are "promoters of the life and dignity of the persons." We couldn't agree more! At 2×2 Health, we have the privilege of working with these amazing people every single day. As Pope Francis stated, "Like no other, the nurse has the direct and continuous relationship with patients, takes care of them every day, listens to their needs and comes into contract with their very body, that he tends to." Our care team is our biggest asset at 2×2 Health and our nurses are more than healthcare professionals, they are also tremendous people doing fascinating things. The following is just a snapshot of what several of our nurses are inspired by and what they are passionate about outside of nursing!
Lauren L. really loves the quote from Maya Angelou, "I've learned that people will forget what you said, people will forget what you did, but people will never forget how you made them feel."   Her daughter, Hazel, received a book about Maya Angelou for her second birthday and it's one of her favorites. She's personally loved learning more about her life and legacy. According to Lauren, "Here's a woman who truly knew what it meant to live a full life and to rise with grace during the lows that inevitably come with the peaks. I connect with this particular quote of hers because it's applicable in every segment of my life; as a professional, as a friend, as a daughter, wife, mother, and individual."
Brandy was the running back on the Chicago Force; a women's tackle football team, having the opportunity to play against 40 other teams throughout the U.S.   Brandy was selected to represent and be a key member of Team USA where she played in an international tournament; helping the USA bring home a gold medal!
Alexandra is a Certified National Ski Patrol (NSP) Alpine Patroller where she volunteers her time for Outdoor Emergency Care/Rescue in recreational and wilderness settings where individuals can be extremely vulnerable. Alex is also a Crew Nurse within her position as a head-sail trimmer for Sailboat/Yacht Racing.
Sheila has fun spending time with her family and friends. She also enjoys reading and assisting the Chicago-land Emergency Medical Service Company by providing assistance to employees and guests at Major League Baseball, National Hockey League, and National Basketball Association Games. She is such an avid Cubs fan that she and her husband named their son after Ryne Sandburg.
Jessica has a favorite quote that we really love too, "To know that even one life has breathed easier because you have lived. This is to have succeeded." Ralph Waldo Emerson
Damaris recently moved back into the city of Chicago after she and her husband raised their three sons in the suburbs. She is an avid photographer and scrapbooker! She loves that her three children live downtown too so they can spend quality time together! They all actively root for Chicago sports teams, Go Blackhawks!
Elizabeth S. loves to travel anywhere there is a city, beach, or mountain. To her, "the best present is the gift of travel!" Her favorite destinations include Paris, Ireland, Mexico, California, and Arizona.
Eileen really relates to a quote by Florence Nightingale, "The object and color of the materials around us actually have a physical effect on us, on how we feel." This is a particular interest to Eileen, she says, "There is abundant research that demonstrates the impact that the physical environment has on patient healing; including light, air quality, colors, views to nature, and natural light. In addition, the environment has a direct impact on the staffs' ability to stay healthy and thus be able to provide care to patients. These are core principles used to design clinical spaces today. Florence was far and away ahead of her time."
Lauren M. enjoys exercising and boxing when she is not working as a nurse. Her favorite gym is Shred 415! Lauren recently boxed in her first official match raising money and awareness for a charity in Austin, Texas.
Heather has several favorite quotes including one by Chrissie Wellington, "It's when the discomfort strikes that one realizes a strong mind is the most powerful weapon of all."
Brittany served in the Illinois Army National Guard in the early 2000s and served in Kuwait and Iraq in 2003 and 2004 as a combat medic. We are so grateful for the service of all of our veterans!
In summary, the 25 individuals on our growing team all wear a lot of different hats and have a range of passions and priorities in their lives. We are invested in our nurses' careers and are fully committed to their overall lives and happiness. At 2×2 Health, we are here to support and care for you through all of your needs. We take pride in being actively engaged in our communities. And most importantly, we strive to continuously lift our 2×2 family up! A big 2×2 thank you to all of our amazing nurses and to nurses everywhere!
Be well and please thank the community of nursing for their continued commitment and dedication.
Wendy Benson, MBA, OTR/L